Books for Adults: Sacré Bleu by Christopher Moore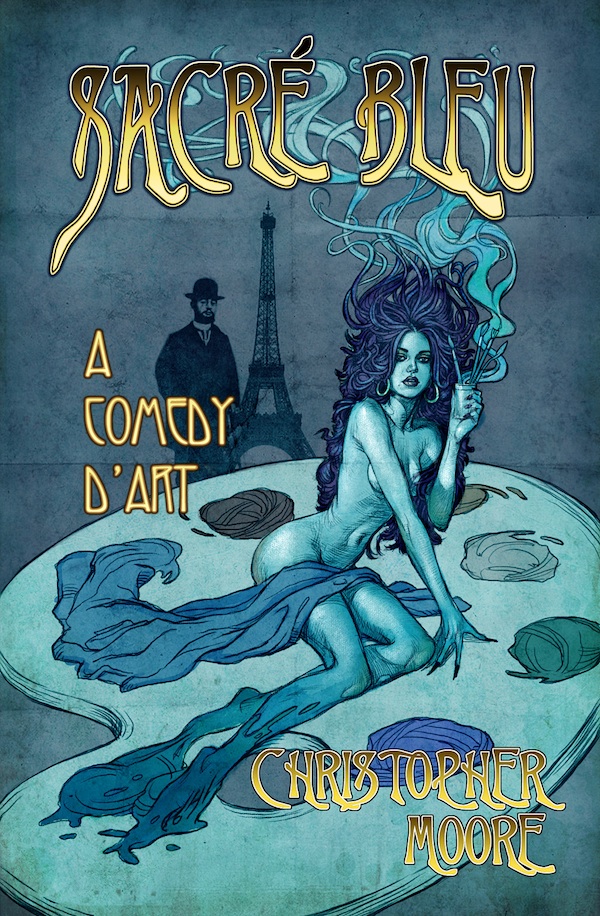 Sacré Bleu
Fiction
William Morrow Paperbacks
October 9, 2012
Paperback
403
Adult
Absolutely nothing is sacred to Christopher Moore. The phenomenally popular, New York Times bestselling satirist whom the Atlanta Journal-Constitution calls, "Stephen King with a whoopee cushion and a double-espresso imagination" has already lampooned Shakespeare, San Francisco vampires, marine biologists, Death…even Jesus Christ and Santa Claus! Now, in his latest masterpiece, Sacré Bleu, the immortal Moore takes on the Great French Masters. A magnificent "Comedy d'Art" from the author of Lamb, Fool, and Bite Me, Moore's Sacré Bleu is part mystery, part history (sort of), part love story, and wholly hilarious as it follows a young baker-painter as he joins the dapper Henri Toulouse-Lautrec on a quest to unravel the mystery behind the supposed "suicide" of Vincent van Gogh.
Opening with some quotes from Vincent Van Gogh and a Prelude to Blue, I was not sure what to expect from this book but I was sure it would be beautiful and vivid.  The intense focus on color helps to bring you into the mindset of the painters and their obsession with it.
"You're bleeding," said Madame Gachet.
Vincent looked at the red on his hands. Crimson, really. Not red. A bit of brown and violet. There weren't enough words for colors. Colors needed to be free of the constraint of words.
Though this book is not a historical fiction, Moore uses tons of references of people, places, and events from the past. He also sneaks in interesting tidbits that adds so much depth to the novel.
"The effect is called pentimento," said the guide his mother had hired. "The master has painted over another painting, and over the years, the old image is beginning to show through.  It is not clear, but you can see that something has come before and does not belong."
Henri had, upon seeing the Colorman, felt a dark pentimento rising in his mind, and somehow it had drawn him across the street.
Even given these few glimpses inside, the plot took far more dramatic turns than I anticipated.  I was expecting a sexy story about Paris and painters with some debauchery.  While those things were very much involved, they were not the meat of the mystery at hand.
Overall, I was pleasantly surprised and towards the end had a hard time putting the book down as the puzzle started coming together.
Disclosure: Some of the links in this post may be affiliate links, meaning, at no additional cost to you, we may earn small a commission if you click through and make a purchase.